Trident Compressed Air distributes an entire range of industrial chillers and cooler specifically designed and engineered for precision cooling applications. Check out our Pneumatech industrial chillers and Closed Loop fluid coolers.
Refrigerated Water Chillers
Recirculating liquid cooling system consisting of a compressor, condenser, evaporator, pump and temperature controller.
Precision temperature control for process fluids
Available for water, solutions, oil and chemicals.
Standard capacities range from 1/4 to 100 tons with special built units available upon request.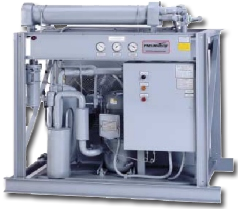 Applications include:
Injection and Blow Molding
Thermoforming
NC Machining
Metalworking cutting oils
Welding equipment
Die casting
Pharmaceutical formulation
Offset printing
and more…
Closed Loop Industrial Fluid Coolers
Use ambient air for cooling, which avoids water consumption and contaminant build up generally associated with cooling tower systems.
Ideally designed for cooling water and glycol solutions, cutting and hydraulic fluids, and lubricants.
Savings in water and sewage costs offer a potential equipment pay-back of less than one year.