SAVING ENERGY MAKES SENSE….BUSINESS SENSE.
Get on the Fast Track to Energy-Efficiency With Major Capital Incentives for Ontario Businesses.
To date, TRIDENT COMPRESSED AIR LTD. has assisted our clients in being approved for

over $1,000,000.00 in saveONenergy rebates.
Our experts can assist you to assess and review financial incentives to implement energy-efficiency measures for your equipment and operational practices that could lower your electricity costs almost immediately in some cases, and last far into the future in others.
Check out this Case Study
Trident Compressed Air partners with local utility, to secure $71,000 rebate and a one year payback for local auto parts supplier's new compressed air system! Read Case Study
Contact us for more details on Ontario's save ON energy program for industry.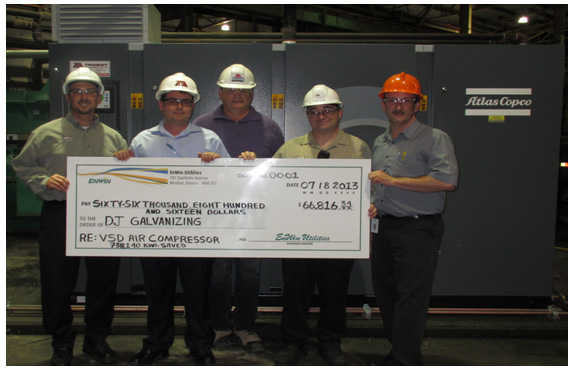 No matter your industry, you may be covered for up to 50% of your project costs, including equipment upgrades and energy audits to help identify opportunities that can lower operating costs.
The Ontario government's Electricity RETROFIT Incentive program (ERIP) provides substantial financial incentives for replacing inefficient existing compressed air equipment with new high efficiency equipment and installing new control systems that will improve the efficiency of your operation and processes.
Electricity RETROFIT Incentive program (ERIP) Flyer | saveONenergy website
Installing a Variable Speed Drive (VSD) compressor in your facility can lead to a significant rebate when purchased through the RETROFIT program, coupled with continued energy savings for the future.