[dropcap style="dropcap2″]ConservAIR pressure boosters are designed for point-of-use applications requiring high pressure. Pressure boosters provide the advantage of delivering high pressure air to the point-of-use without having to elevate the entire plant pressure. ConservAIR pressure boosters are air-driven requiring no electricity, cooling water, or in-line lubricator, and are explosion proof.[/dropcap]
2:1 Pressure Booster
Conservair Point Of Use Pressure Booster
Positive Displacement Amplifier Boosts Air Pressure Supply At Points-Of-Use.
[grid_6 position="alpha"]
Benefits
Provides air pressure to critical points-of-use
Eliminates down time and production loss caused by low air pressure
Enables air equipment to operate at pressure levels specified by equipment manufacturers
Cost Savings- Allows for the reduction of general plant air pressure when used in conjunction with ConservAIR's Intermediate Control®
Minimum Maintenance
Requires no external lubricators
Integrated block design eliminates potential points of expensive leakage
Includes high performance mechanical pump parts for long life
[/grid_6]
[grid_6 position="omega"]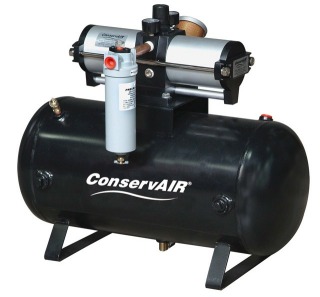 [/grid_6]
[divider]
ConservAir Intermediate Controllers for Compressed Air
[grid_6 position="alpha"]
The Intermediate Controller solution is simple and can be retrofitted to any compressed air system.
Yesterdays answer to fluctuating compressed air pressure was to add more compressors to the system. Many companies continue to make this costly mistake.
ConservAIR Technologies' patented Intermediate Control compressed air management system addresses the problem of fluctuating air pressure where it counts – at your work stations.
Save Money
Fewer Compressors are required and/or compressors can be operated at lower settings. ConservAIR's patented Intermediate Controller (I/C) pays for itself in energy savings alone, usually within the first six months to three years, depending on the size of your system and your current efficiency of operation.
Improve Production
The I/C delivers stable air pressure to work stations at the lowest optimal pressure levels to:
control compressors
reduce compressed air leaks
lower incidence of product defects and scrap
improve consistency of finished product quality
reduce operational downtime
minimize or eliminate compressed air related complaints
Control Operating and Maintenance Costs
Better control of air flow through the system reduces stress on compressors and pneumatic equipment and minimizes leaks caused by unstable header pressure. Better compressor control results in substantially reduced equipment costs.
Reserve Air Supply
Reserve air supplies are always available to satisfy work station demands.
[/grid_6]
[grid_6 position="omega"]
[/grid_6]